Accountants Ditching Their Offices
In the old days, Accountants did all work and it had to be done onsite. Then we outsourced through business process organizations (BPO) to cut costs and increase productivity. Later, we near-sourced for longer work days that followed the sun. And we in-sourced to optimize employee competencies. Although each of these workflow evolution were beneficial, they still limited us. They're limiting because they all keep companies beholden to the paradigm that work must be done within a physical workspace—be it a factory, support center, or office. An infographic showing the evolution of work, beginning with insourcing, evolving to near-sourcing, and ending with cloud sourcing as the new paradigm. Since internet bandwidth increased in the 1990s, and cloud computing became widely accessible in the early 2000s, defining a workspace as a physical space is becoming old-fashioned thinking. More importantly, companies that clutch onto this paradigm for too long may limit their productivity, stunt their ability to compete, or pay higher operating costs. Even if you're not ready to eliminate traditional workspaces yet, workforce trends may make it inevitable as…
MORE WORKERS ARE DITCHING CUBICLES FOR THE CLOUD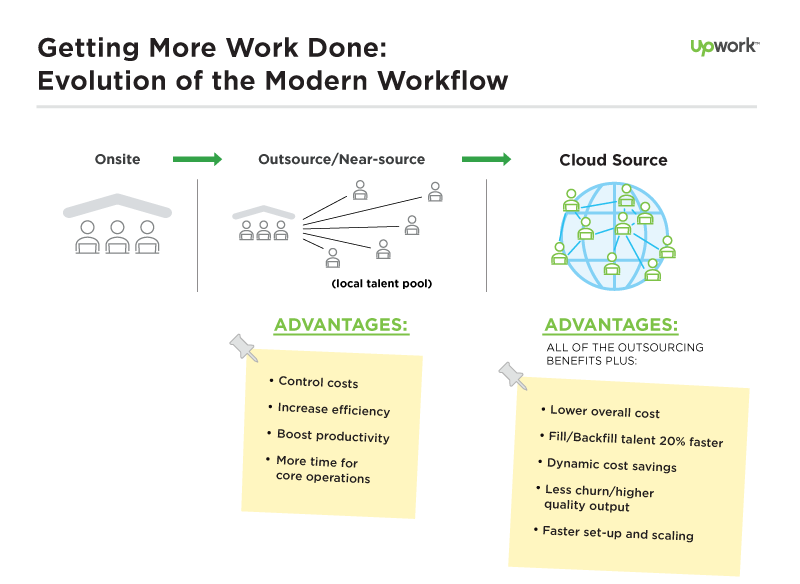 From accountants to attorneys, 57.3 million Americans freelance. This trend is growing so quickly, it's estimated that the majority of the U.S. workforce will freelance by 2027. This includes experienced baby boomers and top talent with high-demand skill sets. This makes one wonder… If the talent you need prefers to work remotely, technology lets you source talent globally, and your work can be done from anywhere in the world, then do you really need a physical workspace? There are many successful companies that prove you don't.
WHAT IF THE INTERNET IS THE NEW WORKPLACE?
Chess.com is the largest online chess community with more than 13M members worldwide, hosting over one million chess games daily. Their team of 60 programmers, content editors, and support staff is located across 12 countries. They're fully distributed, meaning everyone, including the CEO, works virtually. The company also relies heavily on freelancers for specialized skills and projects. Since the company launched in 2005, they have worked with over 120 freelancers in over 29 countries. Co-founder Erik Allebest says using freelancers is the quickest way to find the skilled talent needed as projects arise. Chess.com shows you don't need a physical office to run a thriving company, and they're not alone. From creative accountants to law firms, this distributed model is taking hold as companies realize when they remove the paradigm of a physical workplace, they can get more work done, faster.
THE NEW GLOBAL WORKFLOW: CLOUD-SOURCING
For work that can be done virtually, it seems the new generation of outsourcing is more like "cloud-sourcing." On a smaller scale, it's not a new concept as most organizations have hired freelancers for remote work. However, for work that needs to be done on a larger scale, cloud-sourcing is often overlooked. If your American-based company needs extra customer support, most BPOs may hire 20 people to handle your calls in Manila. But those 20 people must still work under the same roof. Upwork is a freelancing website that makes it easier to get work done—anytime, anywhere. By eliminating the constraints of having contract workers report to a physical workspace, you can: Lower overall costs and enjoy dynamic cost savings. You no longer pay the operational costs associated with a physical workspace. You can ramp workers up and down with greater agility to match your changing business needs. Reduce churn for higher work consistency and quality output. Most contracted positions are in highly competitive industries where workers often jump from job to job in search of better opportunities. With cloud-sourcing, you engage talent from established online freelance marketplaces. This minimizes churn because these marketplaces are filled with people who want to do the exact work you need—and they want to do it on a freelance basis. Fill and backfill talent 20X faster. Traditional hiring takes 40 to 60 days to engage talent, partly because managers must source from a limited pool near the company's physical workspace. In contrast, cloud-based sourcing can take place anywhere in the world. On average, users of Upwork can post and fill projects within three days. Because you can efficiently reach so many more people on the web, you can fill talent faster even when the talent must report to a physical workspace. When a U.S. company launched a new product, they needed 10 additional people in their Philippines-based customer support center. With Upwork, the hiring manager found all 10 within one day. Faster setup and scaling. When scaling up for peak loads or special projects, traditional hiring may require three to six months setup from beginning to end. In contrast, with a BPO in the cloud, you can get started within days. When a leading consumer goods company needed a team for a large data entry/customer service project, it used Upwork to ramp up 20 freelancers in four days. Because the freelancers worked remotely, the company got the work done at a 70 percent savings over a traditional BPO.
FROM OUTSOURCING TO CLOUD-SOURCING
In its simplest form, the hiring equation involves three variables: skills, price, and location. When you can eliminate location, you open up the potential for higher productivity, work quality, and savings. But before this can happen, you must shed the old paradigm that a workspace has walls. And adopt a new thinking: The internet is your workspace.
Gustavo & Daivisi Viera
Accountant & AHCA Consultants