Form 1099-Misc
A Form 1099-Misc is a record that your employer or contractor gave or paid you money. The payer fills out the 1099 form and sends copies to you and the IRS.
In the United States, Form 1099-Miscis a variant of Form 1099 used to report miscellaneous income. One notable use of Form 1099-MISC was to report amounts paid by a business (including nonprofits to a non-corporate US resident independent contractor for services (in IRS terminology, such payments are nonemployee compensation), but starting the tax year 2020, this use was moved to the separate Form 1099-NEC. The ubiquity of the form has also led to the use of the phrase "1099 workers" or "the 1099 economy" to refer to the independent contractors themselves. Other uses of Form 1099-Misc include rental income, royalties, and Native American gaming profits.
Form 1099-Misc is issued by the payer (e.g. business) and is due to the recipient (e.g. contractor) by January 31 and to the IRS by the last day of February each year for work done during the previous tax year. If the payer is registered to file electronically with the IRS the deadline for filing with the IRS is March 31. In accordance with the recently passed PATH Act, these deadlines will be changing so the mailing and transmittal are both January 31 moving forward starting with Tax Year 2016.
One common use of Form 1099-MISC was to report payments by a business to US resident independent contractors before the reintroduction of Form 1099-NEC in the tax year 2020. For this form, "business" includes nonprofits and other organizations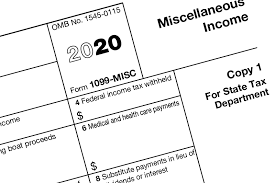 Reporting Independent Contractors Compensation on Form 1099-MISC for Nonemployee Compensation to report payments for services performed for your business