Top Frequently Asked Questions for Childcare Credit, Other Credits
How do I complete Form 2441 if I have a dependent care flexible spending account?
My babysitter refused to provide me with her social security number. Can I still claim the amount I paid to the babysitter for child care while I worked? If so, how do I claim these child care expenses on my tax return?
Can I claim both the child tax credit and the child and dependent care credit?
Can I claim the credit for the elderly or the permanently and totally disabled?
What expenses qualify for an education credit?
Do tuition and related expenses paid to attend a private high school qualify for an education credit?
If I pay college tuition and fees with a tax-free scholarship, can I claim an education credit on Form 8863 for those payments?
Who can claim the Hope Credit or the American Opportunity Credit?
What is a Lifetime Learning Credit?
What is the Health Coverage Tax Credit and how can I learn more about it?
Childcare Credit
If you paid someone to care for a child or a dependent so you could work, you may be able to reduce your federal income tax by claiming the Credit for Child and Dependent Care expenses on your tax return. This Credit is available to people who, in order to work or to look for work, have to pay for child care services for dependents under age 13. The Credit is also available if you paid for the care of a spouse or a dependent of any age who is physically or mentally incapable of self-care.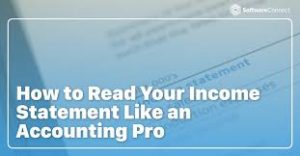 Income statement (also referred to as profit and loss statement (P&L), revenue statement, statement of financial performance, earnings statement, operating statement, or statement of operations) is a company's financial statement that indicates how the revenue (money received from the sale of products and services before expenses are taken out, also known as the "top line") is transformed into the net income (the result after all revenues and expenses have been accounted for, also known as Net Profit or the "bottom line"). It displays the revenues recognized for a specific period, and the cost and expenses charged against these revenues, including write-offs (e.g., depreciation and amortization of various assets) and taxes. The purpose of the income statement is to show managers and investors whether the company made or lost money during the period being reported.
Read More »